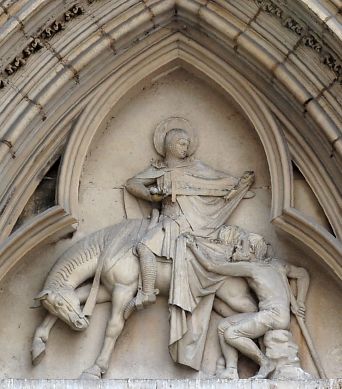 Pilgrimage Overview
The European Cultural Center of Saint Martin manages an extensive network of pilgrim routes through 12 countries.  Pilgrimages to his tomb in Tours began immediately after his death in 397 for devotees to pay homage to this humble and virtuous soldier-turned-monk-turned-bishop.
The Saint Martin of Tours pilgrimage network links many European towns which were part of the life of Saint Martin, as well as those with a significant architectural heritage of relevance to his veneration: thousands of monuments are dedicated to him, including fourteen cathedrals! These sites also have an intangible heritage that is still alive in the form of legends, traditions and folklore.  This large set of routes, covering more than 5,000 km (= 3,000 mi) across and around Europe bears the general name of Via Sancti Martini.  It promotes the collaboration between all the countries that the paths cross.  The international efforts are united by the inexorable virtues of Saint Martin's faith – equality, justice, charity, tolerance, and humility.
Council of Europe values

The Saint Martin Route represents the value of sharing, symbolised by the Saint's charitable act in Amiens when he cut his cloak in half to share with a poor man who was dying of cold in the heart of winter. Behind this simple concept lies the intention to bring people together, beyond divisions of all kinds, in a single approach: sharing resources, knowledge and values. Indeed, sharing becomes a moral necessity to preserve humanity in the face of the challenge posed by globalisation, demographic expansion and ecosystem damage.
 Itinerary
As a starter, a well-marked and beautiful and technically easy pilgrimage route is proposed as an organized group pilgrimage by the Society of Servant Pilgrims.  La Boucle de Saint-Martin – St Martin's Loop – begins at the Basilica of Saint Martin in Tours, built atop his relics, passes through the first monastery in Europe, founded by our hero in 361 AD, and finishes in the cathedral of Tours.  In total, the route is about 500 km (= 300 mi).  The organized pilgrimage pace will be about 20 km (=12 mi) per day, to be completed in about 3 weeks of walking.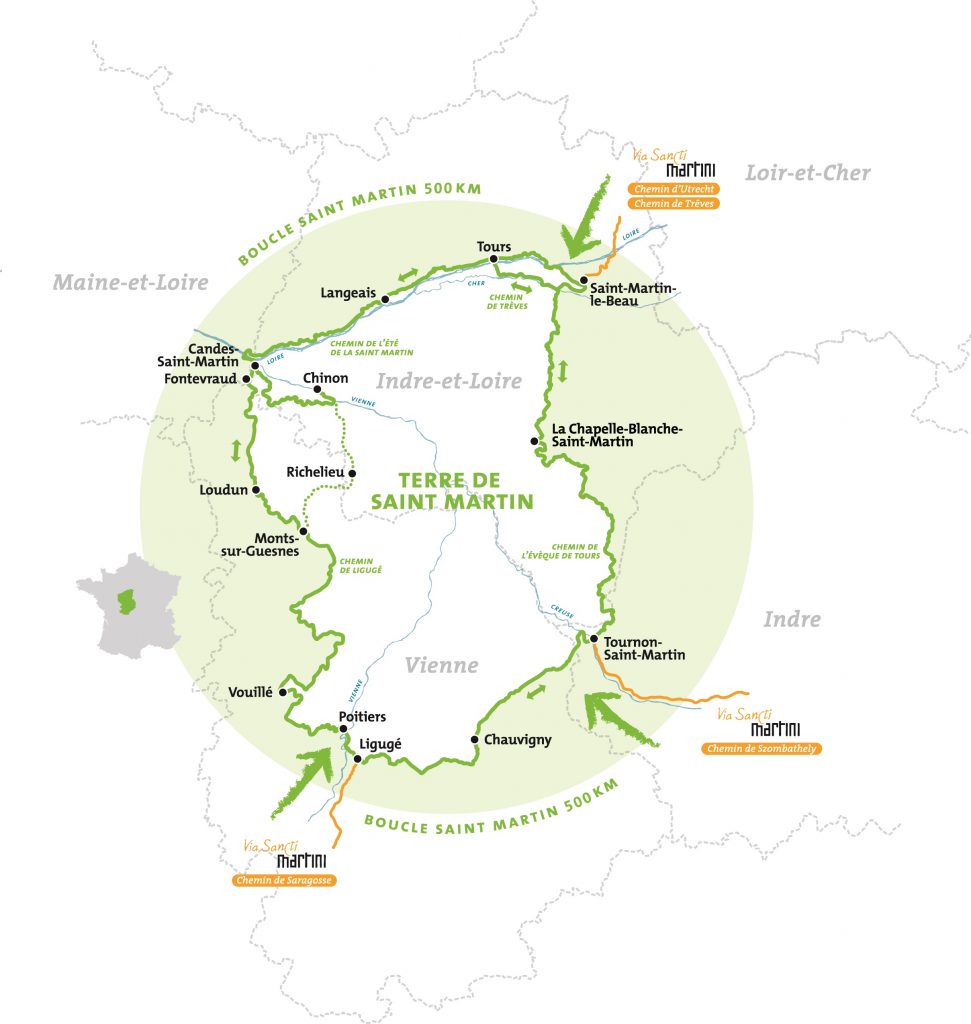 The initial section is the portion known as The Path of the Bishop of Tours that connects Tours with Poitiers/Ligugé.  The next section is from Poitiers to Candes-Saint-Martin, where Saint Martin died in 397.  Finally, the return to Tours, along the Loire River, is known as The Summer of Saint Martin, a reference to the folklore that when his body was floated along the river from Candes to Tours for his burial, though in early November, the flowers on the riverbanks bloomed in his honor.  Published online guidebooks provided by the European Cultural Center of Saint Martin are available (link to be provided soon), which can be downloaded in any language.  Additionally, waypoint files can be uploaded on smartphone GPS systems (e.g., GoogleMaps).
Interest pilgrims can accompany the Society of Servant Pilgrims in the spring of 2024, starting in early June (to be confirmed) and finishing on 4 July, the commemoration of the Ordination of St Martin as Bishop of Tours at the Cathedral of St Gatien.  Interested pilgrims can solicit more information and register at societyofservantpilgrims@gmail.com.  It is anticipated to have a group no larger than 12 pilgrims.  Details of the itinerary will be forthcoming.
Who is Saint Martin of Tours?
It is from the texts of Sulpicius Severus, contemporary biographer of Saint Martin, as well as those of other historians, such as Gregory of Tours, that we know part of his life.  A great traveler throughout his life, this European before his time was born in 316 in Pannonia, present-day Hungary, to pagan parents. Raised in Pavia, Italy, where his father was a soldier, he was enlisted in the Roman army at fifteen.  In 337, while garrisoned at Amiens, France, he shared half of his cloak to give to a poor man dying of cold.  He then had the revelation of the faith and converted to Christianity.  In 356 he left the army at Worms, Germany.
He then placed himself in the service of Saint Hilaire, bishop of Poitiers, in France, who trained him.  Having made a great pilgrimage to find his parents in Pannonia, he converted his mother.  After a stay in Milan, Italy, he took refuge on the island of Gallinaria, on the Ligurian coast. Then he returned to France to rejoin Saint Hilaire.  Installed as a hermit near Poitiers, he founded the Ligugé abbey, the first monastery in the West.  Abducted by the citizens of Tours, who made him their bishop on July 4, 371, he created the monastery of Marmoutier, near Tours, and founded the first rural churches in Gaul, while traveling across part of Europe (Germany, Luxembourg, Switzerland , Spain…). Saint Martin died on November 8, 397 in Candes, and was buried on November 11 in Tours. His memory has been recorded throughout Europe for seventeen centuries.
The historical figure of Saint Martin of Tours is difficult to see behind a considerable mass of texts accumulated over the centuries.  The historical Martin left no writings; it is therefore through the filter of Sulpicius Severus that we can glimpse it.  Notwithstanding, many churches founded by Saint Martin are still in use in the region around Tours.  There are around 5,000 churches and chapels under his patronage in France alone.  Martin is the most common surname in France today, and one of the most common first names.  There are more than 300 towns in France named for him.  His influence has never ceased.  In the Orthodox church he is venerated as Saint Martin the Merciful.
References
YouTube documentaries